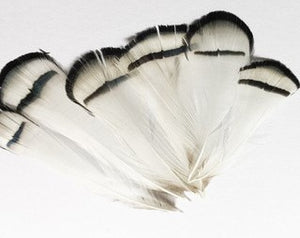 The Lady Amherst pheasant possesses a similar form as the golden with crests, tippets, etc. Tail feathers can be used in married and mixed wing salmon flies.

The tippets are used for wings on such flies as the Lady Amherst and the Lang Syne that uses green dyed tippets. Besides wings, the tippets can be used for body veilings, tails and hackles on grub patterns.

The red crests make for great body veilings, tails and toppings. Single tail fibers used as horns on salmon flies make striking contrasts against the wings. The green, golden and red of the body plumage offer the creative tier and crafter with myriad possibilities.